The incredible edible Egg is an extremely popular protein that goes well with virtually any dish—stir-fry, salad, casseroles, and toast (of course) to name a few. With 6 grams of protein and 13 essential vitamins and minerals—including brain-healthy choline and vitamin D—one large egg boasts a pretty impressive nutrient profile. Since the 2015 Dietary Guidelines for Americans did away with cholesterol recommendations, there are zero reasons to avoid eggs. (In fact, here is why you should eat more of them)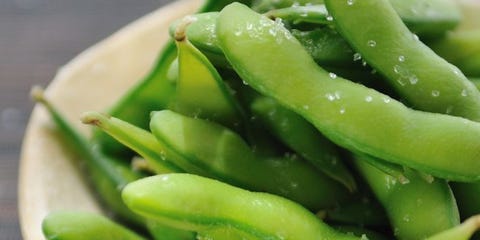 Balance out your carb-rich sushi rice with a side of protein-packed edamame. This green soy bean has 9 g of protein and roughly 100 calories in a ½ cup serving. What's more, you'll also get a dose of fiber, potassium, and vitamin A.
Power up your protein: Whip up a batch of this wasabi edamame dip from Living Well Kitchen at the beginning of the week for a hunger-squashing work snack.